While looking planes up in the FAA dataset for the previous post, I noticed some planes had zero seats, weighed under 55 pounds, and were electric powered. Drones! (or more officially, sUAS - Small Unmanned Aircraft System). I knew that the FAA was making people register their drones, but I was surprised to see them showing up with other aircraft in the FAA database. After a little reading I learned that there are actually two ways to register: (1) online through a simple, instantaneous web page or (2) by mail using the traditional paper form process. While the by-mail approach takes a few weeks, your drone gets an N number and is plugged into the database. I wrote some python scripts to pull out electric plane registration info and plot it.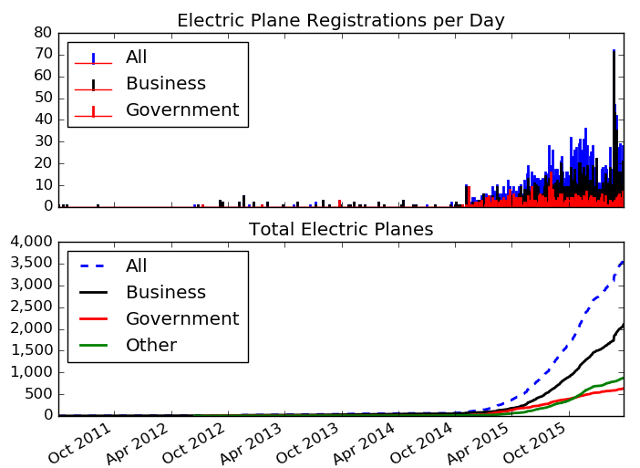 3,500 drone registrations is tiny compared to the web registration numbers (more than 300k in the first month). Still, it seems like a lot to me, given that I don't see an obvious reason to go through the by-mail process. In any case, I started filtering the data to see which organizations were registering. It wasn't that difficult, since the FAA database provides a registration type that identifies whether the owner is an individual, a corporation, or a government entity.
Commercial Drones
I first filtered on commercial entities, of which there were 940 different companies. Below is the complete list of companies with 10 or more drones. There are a few interesting stories here. First, Intel topped the charts with 111 drones. They seemed to all be the same ArsTec Hummingbird model, which (surprise) uses an Intel Atom Z530. BNSF Railway is using the drones to inspect rail lines (why not just strap a camera to a train?). Liberty Mutual says they're using them to assess insurance claims (eg natural disasters). San Diego Gas and Electric will do inspections of their service areas. Some companies do general "aerolytics", like this Talon Aerolytics video shows. Lockheed Martin manufactures their own drones. In addition to the electric models, their Missles and Fire Control group has a few drones under 55 pounds that use turbo-ject engines. There are also some mysteries in this list. Ashfloyd LLC has little outward info for a company with so many drones, causing some people to wonder who they are.

DRONES  COMPANY
------  -------------------------------
 111    Intel Corp
  93    Precisionhawk Usa Inc
  43    Ashfloyd LLC
  40    Aerovironment Inc
  23    Rotor F/X LLC
  22    Lockheed Martin Corp
  18    San Diego Gas & Electric
  17    Unmanned Innovation Inc Dba
  16    Talon Aerolytics LLC
  15    Wintec Arrowmaker
  14    Flirtey Inc
  13    Trimble Navigation Ltd
  12    BNSF Railway UAS Program
  12    Precision Hawk Usa Inc
  12    Cape Productions Inc
  12    Microsoft Corp
  12    Aerodrome LLC
  11    Hazon Solutions LLC
  11    Liberty Mutual Insurance
  11    Unconventional Concepts Inc
  10    Aerocine Ventures Inc
  10    Amazon Logistics Inc

I was a little surprised Amazon didn't have more given Amazon Prime Air. They currently have 10 drones with tail fins, and have registered four different models they've developed. They've been adding to their inventory since last year, and appear to have more in the works if you check with the FAA. Here are the counts for the different models:

Model   Number Tailfins Currently Registered
------------------------------------------------
MK9A    0
MK021A  2 Starting March 2015
MK23A   1 December 2015
MK24    7 Starting April 2015

Government Drones
Next, I selected on Government users, which yielded 310 organizations. They're not as exciting as people would things though- they're mostly state schools, NASA, fire departments, and law enforcement. I moved National Labs into their own category to include more schools in this list.

DRONES  ORGANIZATION
------  -------------------------------
  32    Kansas State University
  22    Oregon State University
  21    Nasa Langley Research Center
  16    University Of Colorado
  14    Nasa Ames Research Center
  12    Virginia Polytechnic Institute & State University
  12    Department Of Commerce
  11    University Of Maryland Uas Test Site
  11    Georgia Institute Of Technology
  11    Cochise Community College
  10    University Of Alaska Fairbanks
  10    University Of Michigan
   9    University Of North Dakota
   8    Department Of Energy
   8    Center For Disaster Risk Policy
   7    Mississippi State University
   7    Sinclair Community College
   7    Auburn University
   6    Ohio State University
   6    Utah State University
...
   4    Bureau Of Alcohol Tobacco Firearms & Explosives
   3    Alameda County Sheriffs Office


National Labs
I also pulled out national labs from the gov list. All of the drones I saw in this section were the same stuff consumers buy.

DRONES  ORGANIZATION
------  -------------------------------
  12    Sandia National Laboratories
   4    Battelle Pacific Northwest National Laboratory
   2    Los Alamos National Laboratory
   1    National Marine Mammal Laboratory
   1    Brookhaven National Laboratory
   1    Oak Ridge National Laboratory

Locust
MIT Lincoln Laboratory also popped up in the Aircraft Reference file (which defines airplane types), but does not show up as an owner of a registered plane in the master list. Searching for the drone's manufacturer model number in the master list turned up 9 hits, though all of them had their blank fields for the owner. There are many blanked owner fields in the dataset, so this may just be part of the registration process and not obfuscation.
The drone's name is Locust, which appears to be a micro-UAV developed by students in MIT's Beaverworks program, commissioned by LL and the USAF back in 2010. Some former students mentioned working on LOCUSTS/PERDIX in their LinkedIn pages, and that they'd designed micro-uavs that could be deployed at 30,000ft from a "cartridge mounted on a business jet". I don't know if it's releated or not, but the Office of Naval Research has a video of their LOCUST (low-cost uav swarm technology). Didn't these people watch Terminator?
Code
The above plots and data were generated with plot_drones.py and tally_drones.py, which I've put in my flight-classifier repo.